Welcome to Spicy event
Stunning wedding ceremony on charmig beaches of Thailand. Your dream about destination wedding come true with us.  Say 'I do's' on wedding at Samui or Koh Phangan or Koh Chang.
Wedding at the luxury villas at Samui
      Wedding on villa is one of the best choice for luxury venue. Just send your request to us and we take care for all with love and passion.
Celebrate best day ever in Thailand
                    Koh Samui wedding is offering beautiful backdrop and unique experience of island destination wedding. One of the best beaches in Thailand become your dream venue
We design wedding of your dream, let's it be bright or romantic pastel theme, costal or bohemian style. All that you dream about come true with us on Samui, Koh Phangan or Koh Chang on your choice.
Wedding should be one of remarkable and happy moment in life
  Let us make your dreamig wedding in Thailand come true with our company Spicy Event. Just tell us your dreams and me transfer its to best day ever.
Stylish wedding venue set up for every wedding
    Nomate what kind of budget do you have for the wedding at Samui,  our team Sricy Event creat stylish wedding venue set up for your with personal touch and flowerist passion.
We are like you in love with weddings in Thailand
    We in love with creating weddings in Thailand with all our experience, the attention to details, ready to take care of every aspect of your event. Thailand offers hundreds of pristine beaches on lonely islands and beautiful mountain spots to choose from for your wedding
Gorgeous wedding design
Stylish personal wedding venue design for each couple with touch of love and passion
More that 9 years experience
Our great team works more that 9 years to make your wedding in Thailand and 11 years worldwide experience in creating weddings with love.
Full wedding planner
We do all from A to Z for your wedding in Thailand to take away any worry from you for this spesial day.
What our customers say
Don't just take it from us, let our customers do the talking!
"We want to say a big thank you to all of your super team, to a fairy tale story that you created for us in this paradise, the ceremony was organized and held to the highest standards and even surpassed our expectations Preparing the bride, holding the ceremony (thanks to Svetlana for the speech) and support for photo session (thanks to the best photographers and the wedding fairy Anastasia) .We are so happy to have chosen your team, which is so great about ours had taken care of that special day in Samui and it had become 100% the day of our dreams. "Hugs and kiss"
"You are an excellent team of talented people and real professionals, thanks for the celebrations on Samui, thank you, that our dreams came true, everything was so touching, nice and friendly, thanks to my stylist, who was make-up and hairstyle Fabulous, thanks to our wonderful operator, his film is worth a lot of praise! Thanks to our photographer Anastasia, photos are so great! PS Pity that you can not repeat everything through these pictures! "
"A great team, everything was what we wanted ... but ... no ... even better !! You have exceeded all our expectations ... hair, make-up, decoration, photos, video !!! Everything is worth 5 stars! A very important day in the life of every couple The main thing on this day is: Bride and groom receive only positive emotions, so it was on our day! Thank you, wish you dreams come true for thousands of couples and join you, the best team ever to have in Thailand, I wish this day would have been a bit longer 🙂 🙂 Thanks again for this great day! "
Stylish weddings in Thailand with 9 years experience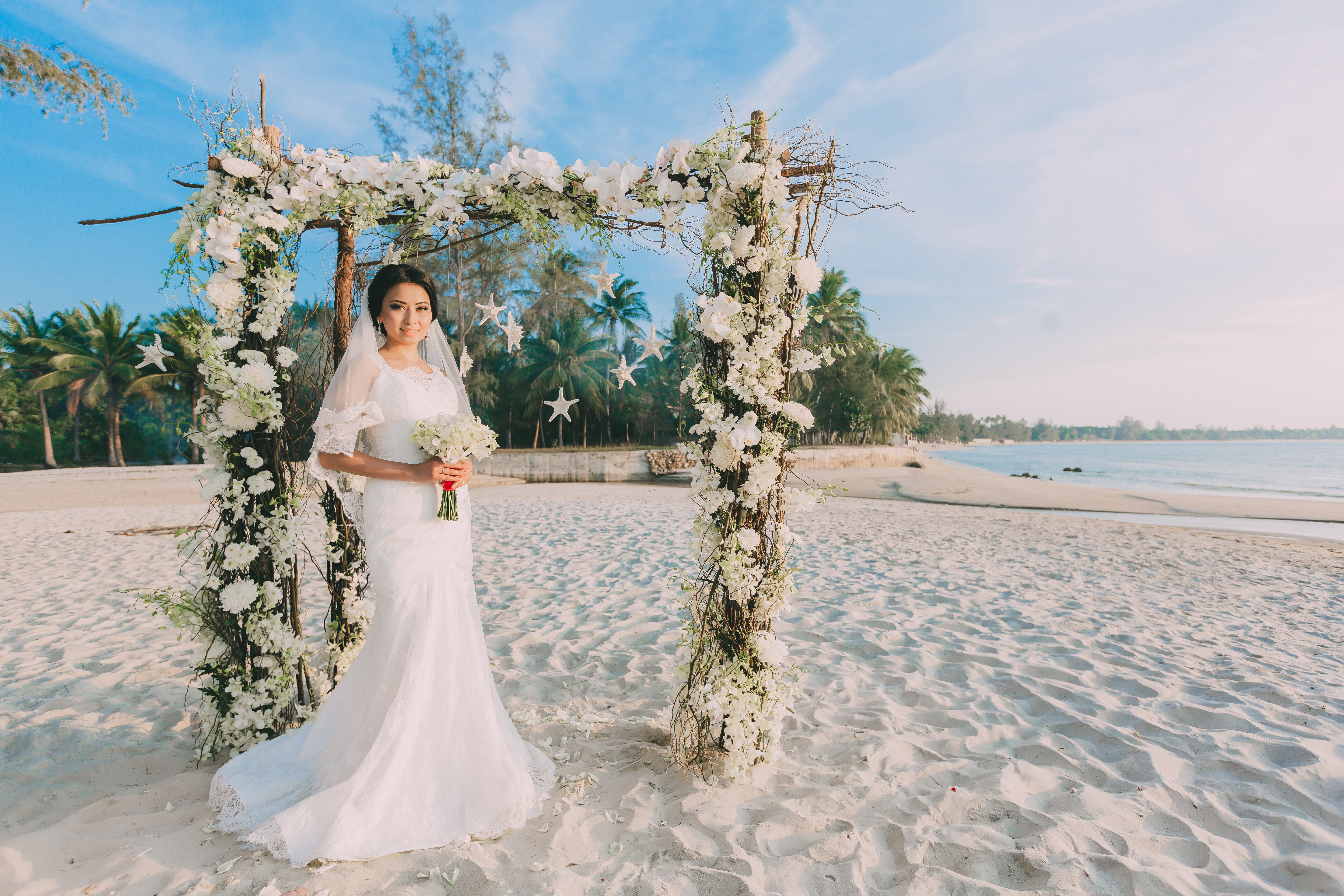 If you have any questions, please contact 24/7
Choose your wedding style:
Romantic, symbolic wedding
Elegant and stunning way to say "yes I want" in tropical paradise is the choice of beach wedding in Thailand or in the luxury villa. Also in the garden or a wedding by the waterfall could become the dream place of your choice.
Buddhist wedding in Thailand
Stay in contact with the Buddhist culture and feel genuine spirit during the blessing ceremony in one of the temples in Thailand. This ceremony can also be nominated for your faith.
Official wedding ceremony on Samui
Our team will fully take care of your legal marriage on Samui. Contact us for more information and their legal implementation in Thailand.
Don't Be Shy
Drop us a line anytime, and we will answer to you within 24 hours!